Production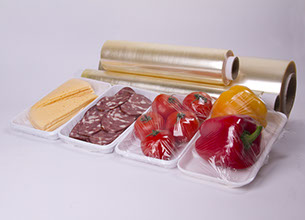 The film is intended to be used for food packaging. It is used for one's everyday needs as well as in the sphere of food production and retail outlets, starting from markets to the supermarket chains. The PVC cling film is one of the most spread packaging materials due to the number of unique features and options:
"Breathing effect" Due to it's structure, PVC cling film LaStren® is capable to conduct both air and water steam, however does not conduct the carbon acid or oxygen, what prevents the packaged product from condensation and drying out of it. Due to the moisture permeability, PVC cling film LaStren® prevents the formation of condensed water on it's surface while packaging of hot products.
      Excellent physical and mechanical characteristics Food cling film LaStren®, having thickness less than 10 microns, is able to restore the original shape after stretching, what makes the packaged products look good; avoid the effect of "punching" and stretching of package. Being flexible, cling film is able to stay in good condition even in the case of packaging the products with sharp or jutting edges, such as fish or meat with bones.

It always looks nice Due to its components, PVC cling film LaStren® has excellent gloss, transparency of the highest quality and a pleasant yellow colour like the champagne. These characteristics are the great advantage of the PVC film LaStren® in comparison with other packing materials ,created on basis of polyethylene

Safety for your family and you PVC cling film LaStren® does not contain
Phthalates, in addition all the components are produced within the EU and have the permission to be used with food, provided by the conclusion of the sanitary and hygienic service of Ukraine. These documents can be observed in the section, named «Certificates».
-Production Of PVC stretch film is located in Brovary, Kyiv region.
PVC stretch film LaStren® is produced with the help of the italian equipment,following the Italian technology,on basis of European raw materials. All these factors play an important role in the production of prime quality product .
The thickness of the PVC food film, m
300, 350, 380, 400, 430, 450
The length of the roll, m
The width of the roll, mm
Address: Kyiv Sribnokilska Street, 1, of.358
Production Coordinates for GPS navigators:
Ш: 50.542056252973936
Д: 30.85222603753209



Certificates
in PDF format
Copyright © 2015 ООО firm "Interplastic". All rights reserved.